So i love Brooke Burke! Who wouldn't, she is adorable
She comes across as a very genuine individual in her role as a mother of four, wife, business woman (check out
Modern Mom
, an amazing website for mothers) and fit woman. And i found her very believable until i started seeing her commercials for Skechers.
Is she really trying to sell me on the fact that she works on her fitness by wearing these?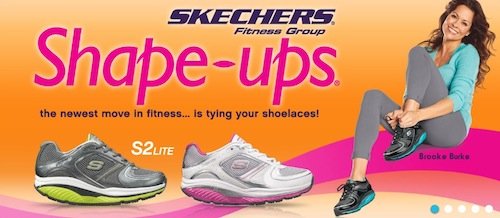 Really Brooke and Skechers?
Now i know most celebrities do not wear the shape ups to work on their fitness. But most regular people do believe they work and will go and purchase them. Honestly, i think it is a waste of money and probably hurts your ankle and back the longer you wear them.
I wish celebrities like Brooke Burke and companies like Skechers would endorse the good ol' fashion sweating your butt off in the gym and eating the right foods to remain healthy and fit! But then of course, they wouldn't make money.
Ladies and men, stay away from the commercialization of fitness and hit the gym HARD!
But just for kicks, here are a few of the commercials showing us how to stay in shape in shape-ups!
What a joke!